2ND ANNUAL FLOATING SOLAR PV FORUM
HYBRID EVENT | 28th - 29th June 2022 | AMSTERDAM, NETHERLANDS| TIMEZONE- CET
Be a Game Changer in the Floating Solar Power Market!!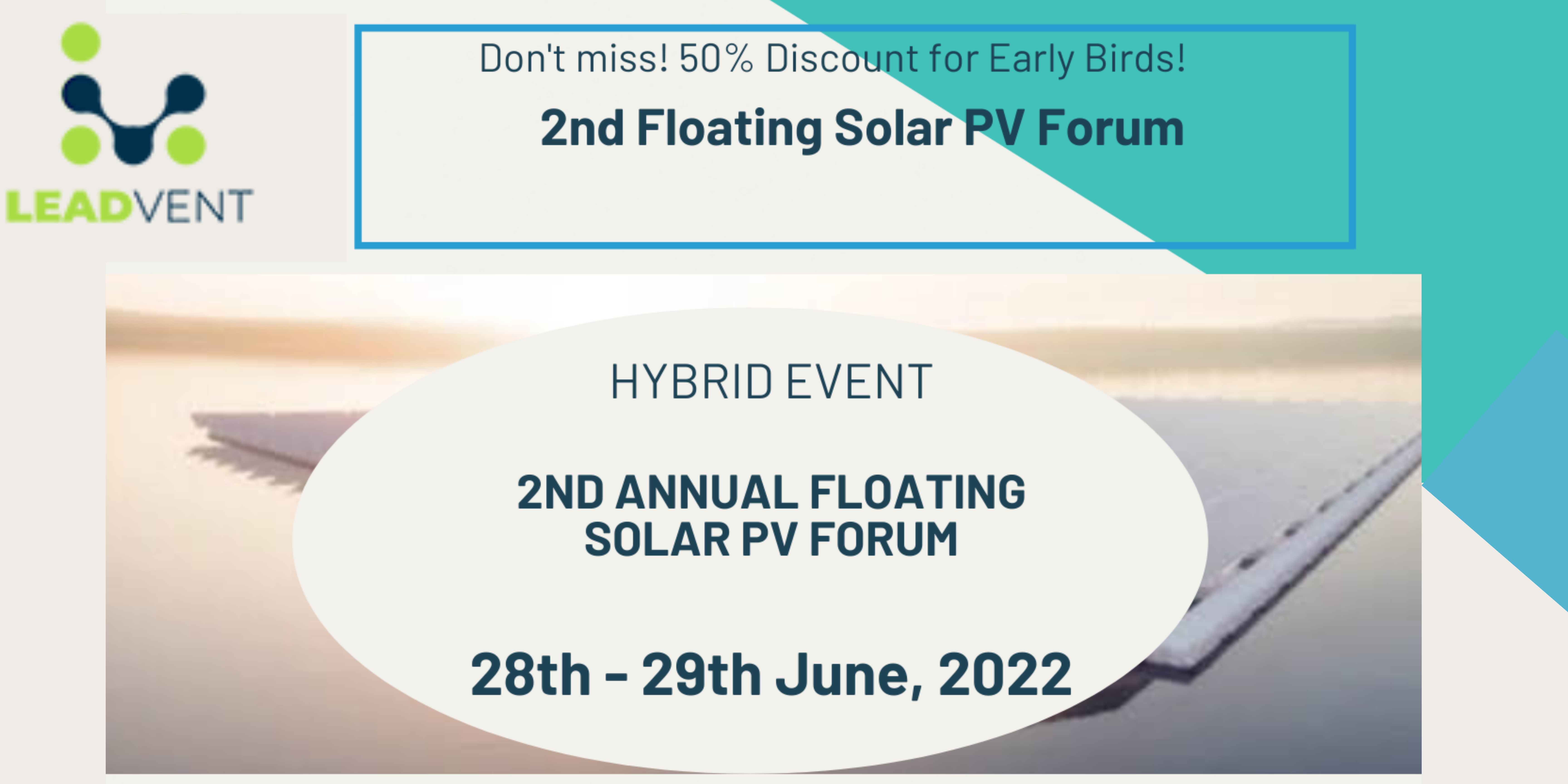 Dear
The renewable energy sector is set to break barriers in the energy industry as concern for climate change and support for a net-zero carbon emission plan increases globally. There is high demand for clean and sustainable energy worldwide and floating solar PV is one of them. As the demand for clean energy rises, new solutions must be found to extend its possibilities. Floating solar PV energy system is an industry with great potential as plants can be easily installed on lakes, reservoirs, or offshore. It does not compete with land use and is also good for water conservation as it tends to limit water evaporation. Notwithstanding, information regarding the production, installation, maintenance, innovations, and repair of floating solar PV is limited and many challenges are encountered during these processes, For instance, the mooring and anchoring part during installation is very crucial as any error or damage relating to this will be very disastrous and costly to repair. However, there are a lot of innovations in the engineering of Floating solar PV systems that have been developed in response to some challenges. Do you want to learn about these challenges and how to overcome them?
The opportunity is here. Yes! The 2nd Annual Floating Solar PV Forum is around the corner to broaden your knowledge of the prospects, challenges, and innovations in the Floating PV market world. The massive revenue-generating market has been rapidly developing as many countries are diving into its use as an alternative energy source which is mind-blowing and fascinating. Many innovations and new techniques, tools, and methods are emerging from the fast-rising energy sector as production cost seems to gradually fall.
What to Expect From This Summit?
New tools, methods, and techniques developed in the Floating solar PV market community

Solutions to key supply chain challenges in the Floating PV market

Financial and funding opportunities obtainable in the Floating solar PV market globally

Investment strategies

Transportation and Installation of Floating solar PV technologies

Technology costs and innovations

Cost-effective methods and techniques that can be used to boost your growth in the Floating solar PV market

Easy maintenance and repair systems used in the Floating PV world

Best practices regarding Mooring and Anchoring systems and cables

Current status and prospects of the Floating PV market

Many more
With over 200 senior leaders, 60 local & international Speakers, 25 Regional and International Countries well represented, and 1000 expected attendees from across the globe. Then, nothing needs to stop you from attending as it is one of the biggest summits ever in the Floating solar Industry history.
Do you know that Andrés Franco the CEO of ISIGENERE is one of our Speakers?
Come and connect with many experts, practitioners, and industry gurus from across the globe and learn how to attract big investors and increase your understanding of the Floating solar PV community.
Who Should Attend?
Potential Investors

Engineers

Surveyors

Industry Players

Experts

Practitioners
Do you want to exhibit your product to the right audience, or do you want to gain leading-edge knowledge on how to penetrate the Floating Solar PV market? Look no further, This forum will give you more than you expect as we have over 12,000 business development spaces.
Register to garner insights from many key industry players and experts by thoroughly prepared case studies, seminal inflow, topics, and professional debates.
To register or learn more about the Forum please click here.
For more information and group participation, contact us: www.leadventgrp.com| [email protected]